Sun, clear and clean water, uncrowded beaches and sports facilities of all types (from swimming-pools to tennis courts).
The Brescian lakes are just the place for relaxing but active holidays. The lakes of Garda, Iseo and Idro are known all over Europe for sailing and wind-surfing, not only for swimming.
Sailing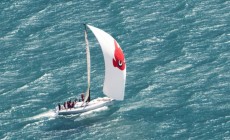 Lake Garda has a long sailing tradition and has produced Olympic skippers. It is the home of the "Centomiglia" and has many sailing clubs (for example :"Circolo Vela Gargnano" in Bogliaco and "La Fraglia Vela" in Desenzano) and schools. The winds vary around the lake; at the southern end they are lighter but up at the northern tip the winds are stronger and more unpredictable.
Lake Iseo, with its long sailing tradition, never lacks for winds and has many sailing schools including the famous "Associazione Nautica Sebina" at Sulzano.
Lake Idro may be smaller but it is still an excellent place to sail.
Windsurf & Kitesurf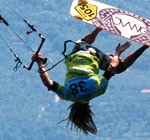 The triangle between Limone, Riva and Malcesine at the tip of Lake Garda is one of the capitals of European wind-surfing. Particularly liked by wind-surfers is the area from Campione to Tignale which benefits from a strong north wind.
The best area on Lake Iseo for wind-surfing is to be found at Vello between Pisogne and Toline where the rocks drop sheer into the water.
The advantages of Lake Idro for wind-surfing are twofold: the constant mountain winds and the absence of large boats.
The water of Garda are also popular with sub-aqua enthusiast, particularly near the Rocca di Manerba. And there are several diving schools.
Photo: giasco, kitecampione