Between the mid-17th and mid-18th centuries, several important buildings were constructed which are still features of the city today: the Teatro Grande, the Duomo Nuovo and the Queriniana Library.
Also built during that period were the porticoes in via Dieci Giornate which are a favourite spot for window-shopping and promenading.
Teatro Grande
The Teatro Grande has been the centre of the city's musical culture. The entrance to the theatre is in corso Zanardelli. Its façade dates from the end of the 18th century while the auditorium with five levels of boxes, was renovated during the 19th century. Its foyer is especially beautiful, designed by Antonio Marchetti (1761-69) and decorated with mirrors, frescoes and stuccoes.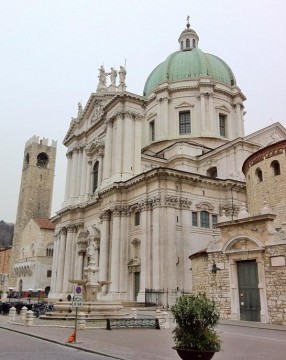 The Duomo Nuovo (New Cathedral)
Situated between the Broletto and the Duomo Vecchio, the imposing white marble façade of the Duomo Nuovo dominates piazza Paolo VI. It took over two hundred years to complete, from 1604 to 1825: its dome is the third highest in Italy. Equally impressive is the interior where works by Moretto, Romanino and Palma the Younger can be seen, as well as important sculptures including the Renaissance sarcophagus of Saint Apollonius.
The Querinian Library
This collection is housed in a severe-looking building designed in the mid-18th century by Antonio Marchetti; the collection was instituted at the wish of Cardinal Angelo Maria Querini, Archbishop of Brescia.
The reading rooms are very beautiful where the original bookcases and decorations have been preserved. There are over three hundred thousand volumes and important collections of manuscripts, codices and incunabola. Among the most valuable items is the 6th century Purple Evangeliary written in letters of silver and decorated in gold.
Photo: Andrew Nash