There are many famous, well-equipped ski resorts in the province of Brescia from which interesting excursions can be made.
Upper Valcamonica
In Valcamonica up in the glaciers of the Adamello range, Ponte di Legno and Tonale-Presena (1258 m – 3100 m) are among the best known resorts in Italy.
Here there is also summer skiing on the Presena glacier and spectacular outings can be made in the Adamello mountains (helicopter transport is available to take skiers to their starting point).
The Presena glacier has no fissures and is protected from the wind: it is one of the most interesting resorts for summer skiing.
To reach the top, take the cable-way from Tonale. The ski school is very famous. Cross-country skiing is possible at both Tonale and Ponte di Legno but also outside both resorts. There is a 10 km ring around Vezza d'Oglio – Temù.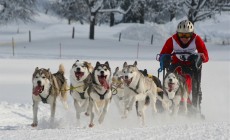 For those seeking something more unusual, there is the Italian Dog-Sledding School where you can learn to drive sleds pulled by huskies and make exciting trips through the mountains.
Ponte di Legno Tonale Temù Presena
30 lifts (more than 20.000 people per hour)
100 km of pistes
3 cross-country rings (16,5 km)
Snowpark
ski school (downhill and cross-country) and snow-boarding instructors
artificial snow
permanent competition piste
springtime pistes
off-piste
helicopter skiing
summer skiing
single ski-pass
ice-skating
swimming
For info e webcam: http://www.adamelloski.com/
Photo: Alberto Stedile, Leon Beek