The Adamello park covers 48.100 hectares in the eastern part of the province of Brescia in Valcamonica from Tonale Pass to Crocedomini Pass. It is an area of natural interest which fills the space between Stelvio Park (adjacent to the Swiss Engadine Park) and the Adamello-Brenta Park in Trentino.
Altogether these cover 250.000 hectares, the largest protected area in the Alps.
The park's natural heritage is also an historical one. The area of Capo di Ponte holds the highest concentration of rock-carvings in the world while the upper valley contains the remains of the trenches and fortifications of the First World War.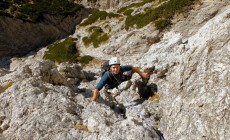 Mountain crests and chains branch out from the central glacier are perfect for climbing and on and off skiing. Corno Miller (3373 m), Monte Fumo (3409 m), the Baitone (3330 m) and the Frisozzo (2897 m) are some of the peaks that make up the crown around the Adamello which at 3539 m is the highest point of the park.
The woods of chestnut, alder. ash, hazel and birch trees on the valley floor or those of larch or spruce at over 1000 metres are ideal for walks. Higher up among the rocks from late spring till autumn, mountain flowers such as gentian and edelweiss are everywhere.
The park is the ideal habitat for many mountain animals and birds including deer, marmots, weasels, stoats, dormice, woodpeckers, cuckoos, capercaillies, partridges and rock ptarmigans.
High up, chamois can occasionally be seen.
For more info: http://www.parks.it/parco.adamello/
Photo: Daniele Borghi, chripell