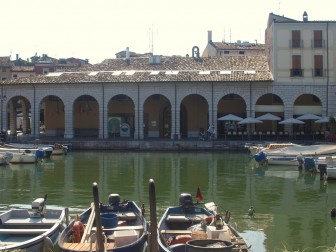 Desenzano stands in the centre of a wide bay and is sheltered behind a semi-circle of hills. It is one of the best-known tourist towns on the lake and also a famous sailing and bathing centre.The town centres around the lakeside promenade, piazza Malvezzi (where an antiques market is held on the first Sunday in the month), Porto Vecchio and the porticoed streets lined with bars, boutiques and restaurants. The town was founded by the Romans, fought over during the Middle Ages between Brescia and Verona and passed into the hands of the Venetian Republic in the 15th century. It has preserved the remains of this history starting with a Roman villa (2nd – 4th c. A.D.) which boasts splendid mosaic floors. At 22, via Crocefisso, an Antiquary houses the finds discovered during excavations on the villa.
Older objects dating from the Bronze Age that have been found around the Desenzano area can be seen in the town's Archeological Museum Rambotti in the 15th century convent Santa Maria de Senioribus.
The most interesting find is an oak plough, 2,20 m long, dating from 2000 B.C., the oldest yet found.
The upper part of the town is dominated bye the Castle, rebuilt during the 14th and 15th centuries, around which the narrow medieval lanes of the town intertwine.
In the lower part of the town, the Cathedral should be visited in piazza Malvezzi (rebuilt between 1586 and 1611) to see "The Last Supper" by G.B. Tiepolo and paintings by A. Celesti and Zenon.
Photo: tomislavmedak