After 1800, the city's appearance began to change: the city walls were no longer required for defensive purposes and were little by little dismantled and excavations begun which led to the discovery of the Capitoline Temple. The Corn Market in piazzale Arnaldo was one of the most important buildings during this period. The white stone colonnade demonstrates the neo-classical taste of the age and was raised to allow wagons to be loaded. Many large and imposing buildings were put up around 1800 that today are still part of Brescian life. For example, there is Casa Chiappa in piazza Paolo VI, a severe though original example of neo-classicism; the Conservatory, in corso Magenta; and Palazzo Tosio in via Tosio, designed by the most famous architect of the day, Rodolfo Vantini, who also designed the city cemetery, and now the home of the Athenaeum and the Brescian Academy of Science, Literature and Arts.
Liberty
There are not many Liberty buildings in Brescia but those few are interesting. This style aroused much interest at the 1904 Brescia Exhibition.
The two architects who were best able to interpret it were Arnaldo Trebeschi and Egidio Dabbeni. Where can the visitor find Liberty buildings in Brescia?
Try Casa Migliorati at 3, via Trento or Palazzo Pisa at 29, corso Magenta.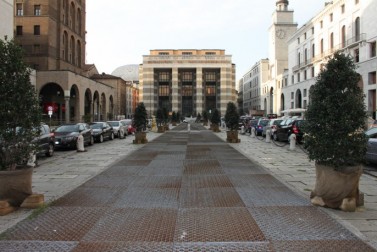 Piazza della Vittoria
This square was built by knocking down a large part of the medieval city. It was designed by the Fascist architect Marcello Piacentini in his monumental and neo-classical style and was inaugurated in 1932. It is closed on one side by the huge central Post Office covered with travertine stone, and dominated on another by a 60 m tower. Opposite the tower stands the Quadriportico with the Tower of the Revolution above. It is from this square that the famous car race, the historic Mille Miglia, starts each spring.
Photo: Marco Assini