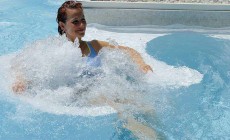 The five comfortable and well-equipped spas at Sirmione, Boario, Angolo, Vallio and Ome offer complete holidays or short breaks for getting back into shape and relaxing the mind and spirit. All you have to do is choose the most suitable setting, mountains or lakeside, not just for traditional thermal cures but also for combining sports, history and visits to the art treasures nearby.
Sirmione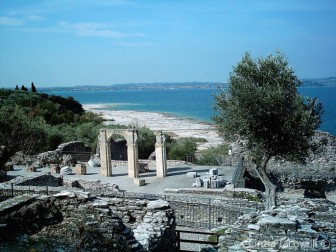 The benefits of Sirmione spa waters have been recognised since ancient times and today spa is famous for its excellent cure and wonderful position (in the hearth of Lake Garda). The lake's mild climate only helps the treatment.
Sirmione spa boasts the highest classification recognised by the Italian government, Level 1A. It is famous throughout Europe for its cure for rhinogenal deafness but the hyperthermal sulphur-salsobromoiodic mineral waters are also exceptional for pulmonary, osteoarticular and peripheral venous vasculopathic problems. Besides the two spas ("Catullus" in the town centre and "Virgil" on the tip of the peninsula), inhalation, mud-treatment and massages can be taken in some of the town's hotels which have their own spa departments.
Boario Terme
Boario's waters have been known for centuries to be beneficial for liver, intestinal and bilious problems (see "Valcamonica").
Today its facilities, also classified Level 1A, are also known to cure a number of other complaints such as hypertension and are useful for rehabilitation and convalescence. There are four springs (Silia, Antica Fonte, Igea and Fausta) which produce sulphate-calcic mineral water but other cures available are massages, mud treatment, respiratory and motory gymnastics and other treatments which combine movement, open-air sport and swimming in the thermal pool. The gardens surrounding the spa are over 150.000 square metres in size with jogging routes marked out.
Angolo Terme
The two springs at Angolo, San Silvestro and Fonte Nuova (see "Valcamonica") produce sulphate-bicarbonate-alkaline waters which are excellent for stomach, liver, kidney and intestinal complaints and for preventing arteriosclerosis. The spa is set in a large park and equipped for thermal baths, mud treatment, inhalation and nebulization treatments.
It has a centre for aesthetic medicine and a gym. The surrounding park has tennis courts, running tracks, minigolf, a children's playground and a thermal swimming-pool with underwater jets, water-slides, games and a solarium.
Angolo is at the entrance to the Valle di Scalve (one of the most suggestive Alpine valley) and has a mild climate. It has a typical mountain vegetation, despite being at an altitude of 480 metres.
Vallio Terme
Vallio is a quiet, pleasant village in Valsabbia. It is known for its bicarbonate-alkaline waters used for curing infections of the urinary tract, chronic inflammations and colitis as well as locomotory and skin problems. It is close to Brescia and only 15 km from Lake Garda.
At 350 metres altitude it resembles a mountain spa resort, both for the typical mountain vegetation and for its architectural characteristics.
Terme di Franciacorta – Terme di Ome
At Ome in the vine-covered countryside of Franciacorta, the Fonte del Maglio produces bicarbonate-calcic water and the Fonte Piccola water with a high iron content.
They are recommended for kidney, liver, respiratory tract and bilious complaints as well as diabetes and obesity.
Photo: dolomitibl, cjnzja