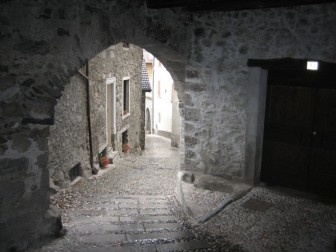 Edolo
Edolo lies at 700 metres in the heart of a vast hollow where Corteno valley and high Valcamonica meet. It is the most densely populated centre of the upper valley and an excellent start-point for trips along the river Oglio or towards the Adamello and Stelvio parks. Two renowned excursions are to Lake Aviolo and the top of the mountain Piz Tri.
Temù and Vezza d'Oglio
Are two typical villages near Ponte di Legno for those who love peace, long summer walks and downhill and cross-country skiing in winter. Ski lifts are also found at – San Pietro Corteno Golgi Aprica (the Brescian part of the Aprica ski area)= which is the north-western tip of Valcamonica.
Corteno Golgi (named after Camillo Golgi, Nobel Prize-winner for medicine in 1906) is a very old village and a summer tourist resort. It lies in the heart of a valley of great natural interest and is the starting point for excursions into the Brandet and Campovecchio valleys.
Photo: Stephen Colebourne