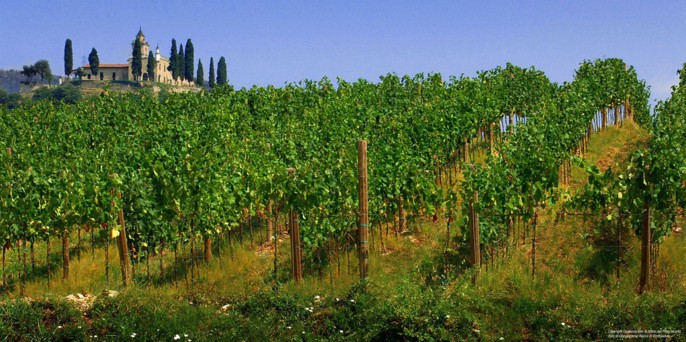 Wine has been made in Brescia since the time of the Romans, particularly in the areas around Lake Garda and Lake Iseo and on the hills around the city itself. Today Brescia province is the second largest wine producer in Lombardy. It is famous for its ten recognised areas of production that have been awarded the denomination "D.O.C." (controlled denomination of origin): Botticino, Capriano del Colle, Cellatica, Franciacorta, Terre di Franciacorta, Garda Bresciano, Garda, Garda classico, Lugana and S. Martino della Battaglia.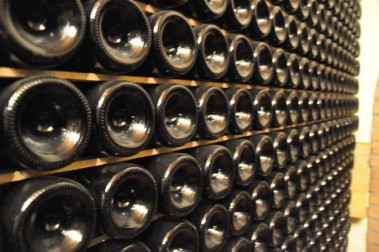 Of particular renown is Franciacorta which obtained the ultimate accolade for Italian wine, D.O.C.G., reserved for wines of the highest quality, for its traditionally produced sparkling wine: Satèn, the best of Franciacorta, Terre di Franciacorta VQPRD Rosso, to accompany grilled and game meats and Terre di Franciacorta VQPRD Bianco for hors d'oeuvres and dishes based on fish from Lake Iseo.
The Garda area boasts three D.O.C. zones in which are made Lugana Bianco from Trebbiano grapes, ideal as an aperitif , with hors d'oeuvres and fish, and Lugana Spumante, the sparkling version of Lugana Bianco.
Garda Bresciano D.O.C. also produces many wines: Garda Rosso, to be drunk young and Garda Rosso Superiore, to be laid down, are drunk with roasts, braised meats, mixed grills and game; and Chiaretto, produced in the lower Valtenesi, which uses the same grapes as Garda Rosso but which uses a different method so producing white wine suitable to be drunk with hors d'oeuvres and white meats. There is also Garda Bresciano Novello ( wine drunk immediately after production), Garda Bresciano Rosé (intense, fruity sparkling wine), Groppello (to drink with fowl, grills, pork and cheese), and Garda Bresciano Bianco, which is ideal for lake-fish and shellfish.
The gentle hills south of Lake Garda provide the San Martino della Battaglia production area. Using Tocai grapes, it gives fresh, dry, low acidity wines to be drunk as an aperitif, with hors d'oeuvres, fish and delicate dishes.
A liqueur-like wine is also produced which is served at the end of a meal with dry biscuits or cakes.
To complete the picture, there are the D.O.C. wines of Cellatica and Botticino produced on the hills that surround Brescia, and the Trebbiano and Rosso of Capriano del Colle.
Photo: Fabio Ingrosso, Magnus Reuterdahl