Sale Marasino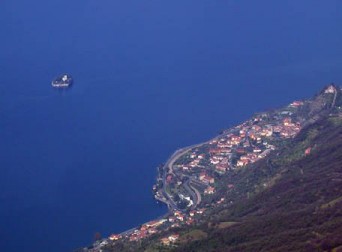 Sale Marasino is a typical lakeside village.
The old centre grew up around the 18th century cathedral dedicated to San Zenone Vescovo and Santa Maria Assunta, the interior is decorated with frescoes by Francesco Monti.
The walk down to the lake passes through the park of the 16th century Palazzo Martinengo whose façade is decorated with a colonnade with suggests a loggia. The remains of a 1st century A.D. Roman villa stand in the park. Nearby villages worth visiting are Conche, with a beautiful 18th century church of San Giovanni Battista, and Curetto, with its 1521 church of San Pietro.
Marone
Marone is on the road north. It is a perfect place for swimming and sailing, but also for walking. From the village numerous paths leave that climb up over 1000 m towards Monte Guglielmo and the Croce of Marone. As in Sale Marasino, Marone can also boast the remains of a 1st century A.D. roman villa. From here on, the small beaches give way to rocks that drop sheer into the lake – the best view is seen from the Church of S. Pietro built on an outcrop over the village of Vello. It is this part of the lake that is favoured by windsurfers, particularly between Vello and Toline, where a breeze is always to be found.
Photo: Marco Ghitti