Stelvio Park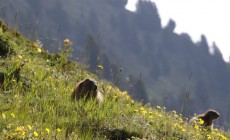 The southern side of Stelvio National Park takes in Val Grande, Valle di Canè, Valle delle Messi and the Valle di Viso in Valcamonica. The Val Grande can be reached along an old mule track from Vezza d'Oglio where old stone huts with slate roofs can be seen. After Sant'Apollonia in the Valle delle Messi, there are paths through the larch woods to the Bivacco Linge, Pietra Rossa Pass and Gavia Pass along the Alta Via Camuna (the Camonica High Path). The starting point for outings in Val di Viso is the village of Case di Viso from where paths lead to the Ercavallo Lakes, Bozzi mountain hut or Smuglers' Pass. The flowers are beautiful – in all Stelvio park over 2.300 species of flower have been recorded, many of which are rare and protected like scarpetta di Venere, giglio martagone, saxifrage or silene acaulis which flower among the rocks at high altitude.
The animals
Stelvio is home to all types of Alpine animals such as chamois, ibex (disappeared in the 18th century but reintroduced during the 1960's) and deer, marmots, hares, foxes, squirrels, stone-martens, weasels, stoats and badgers are all present. The most important bird is without doubt the golden eagle, the symbol of the park, which can be seen on Brescian territory in the Valle delle Messi and Val Canè.
For more info: http://www.parks.it/parco.nazionale.stelvio/ 
Sant'Antonio Valleys
The Valle di Campovecchio and Val Brandet open out from Sant'Antonio, small hamlet at Corteno Golgi, and together make up a beautiful natural park.
The large meadows on the valley floor and the hillside pastures are dotted with wood and stone barns and huts of a design found only here.
Their typical feature is a construction of crossed trunks which support the top beam.
The valley fauna include chamois, deer, marmots, kestrels and other birds of prey.
Photo: Sandy Kirchlechner, Franco Folini