Zone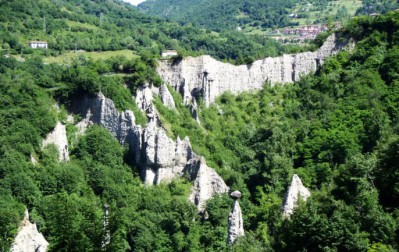 Zone has a very unusual feature: the locals call them "stone witches" but geologists prefer the term "erosion pyramids".
They are columns up to 30 metres high of soil topped, and protected, by a rock. Water has eroded the surrounding soil over thousands of years leaving the pyramids seemingly more precarious than a house of cards.
They are the largest in Europe and should not be missed (see "Parks and Nature").
Zone, above Marone, itself is a delightful village of old wood and stone houses dating from the 17th century. It is a quiet summer resort of restaurants and an excellent starting point for making excursions up to Corna Trentapassi and the Monte Guglielmo.
Of historical and artistic interest are the Parish church and the small 15th century church of San Giorgio in the valley of Gaz.
Pisogne
Pisogne is the gate to Valcamonica and the meeting point between lakeside and mountain life. The village is very old. There are interesting buildings like the 7th century church of Santa Maria in Silvis, the medieval Bishop's Tower and the church of Santa Maria della Neve. The centre of the village is the elegant piazza Corna Pellegrini lined with typical porticoes and old houses. From spring to autumn it is the scene of concerts, plays and festivals. There is a lovely walk from Pisogne to Val Palot where there is a splendid view of the lake.
Photo: TwinGin